So, this is my first time doing this, and I hope it works out well. I thought that so many people do blog hops and it has brought so many new readers into my world that I would try one myself!

Welcome to Whooo's Who Friday! (If you are here from another blog hop, welcome!!!)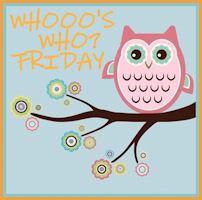 Here's how it's done:
*Enter your main blog link to the linky below!
*Please post the Whooo's Who button somewhere in a post on your blog so others can find it. (You can find it in this blog or in my sidebar.)

*Check out as many blogs as you feel meet your interests. If you do check out a blog, even if you don't decide to follow, leave a comment letting the blog author know you visited.
*If you follow a blog, make sure to let them know you're following and where you found their blog.
*Don't feel obligated to follow anyone, even if they follow you, but it is polite to visit people's blogs and thank them for following you.
*Family friendly sites ONLY. All others will be deleted and blocked.
* Have Fun!!! This should be a wonderful, fun experience for everyone involved.
Here are some other great blog hops to check out!